Hello testers, this blog post outlines Kiwi TCMS roadmap for 2021 and what we feel is important to us!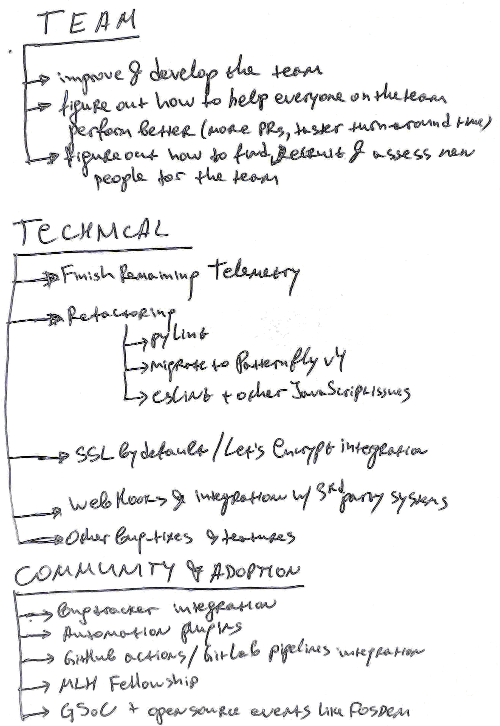 Project sustainability
The big goal towards which we are striving is to turn Kiwi TCMS into a sustainable open source project. For now this means three key areas:
1

)

 

Team




2

)

 

Technical




3

)

 

Community

 

&

 

Adoption



Team
Right now we have a core team with 3 members, 3 more members on-boarding and 2 interns. In the past year we weren't successful into turning more people into core-team members. I have seen several problems and core-team will significantly reconsider how we approach & recruit people to join the team, how we on-board and help them so that they can become productive and fully fledged team members.
Long term focus is improving and strengthening core-team which also implies a level of responsibility and performance criteria which core-team members must meet.
Goal: 1 PR/week/person as broad measure of individual performance so that we can operate with a predictable capacity.
Goal: (re)structure internal team processes around candidates and newcomers! Note: These are not public at the moment.
Technical
The areas shown on the picture above will receive more priority.
Goal: complete remaining Telemetry features.
Goal: complete remaining refactoring with major focus in pylint issues, migration to Patternfly v4 and eslint issues.
Goal: improve SSL configuration with strong bias towards Let's Encrypt being configured by default.
Goal: provide support for web hooks so that Kiwi TCMS can be integrated more easily/flexibly with 3rd party systems. We're aiming for Kiwi TCMS to be able to POST webhooks to external URLs and inform them about events in the system.
Community & Adoption
Last year Kiwi TCMS had massive success despite not visiting many events. The open source community spirit is important to us both in terms of technical collaborations and in terms of features & exposure which drives further adoption of Kiwi TCMS downstream.
Goal: complete bug-tracker integration milestone.
Goal: extended GitHub integration via GitHub actions which will report results into our database. We do have other ideas as stretch goals.
Goal: similar to GitHub actions we're looking towards GitLab pipelines and similar integration with GitLab.
Goal: continue our collaboration with Major League Hacking Fellowship program.
Goal: apply for the Google Summer of Code program and work with students if selected.
---
If you like what we're doing and how Kiwi TCMS supports various communities please help us!