The leading open source test management system
For manual & automated testing
Internal + external bug trackers
Plugable architecture
Versatile API layer
Made by testers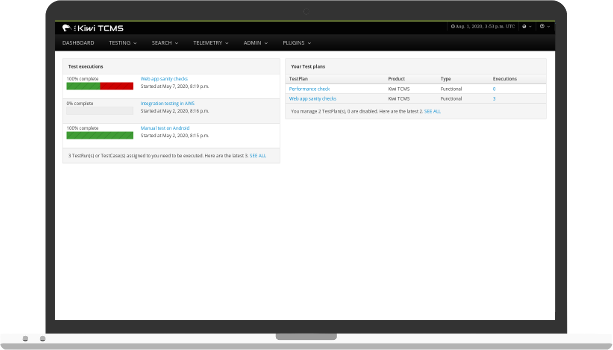 Check all videos
Manual testing
Use the dashboard to see pending work. Execute tests, mark results and report bugs.
Automated testing
Use Kiwi TCMS plugins for popular testing frameworks to collect automation results!
Test management
Create test plans and cases, track progress and assign work across multiple teams.
Testing telemetry
Instant insight into testing. Vital info for planning and status reports before release!
External API
Provides full access so you can get creative. Available via JSON-RPC and XML-RPC.
Paid support
Opt-in for a subscription if you don't want to DIY your testing infrastructure.
Check all features
Our mission is to transform the testing process by making it more organized, transparent & accountable for everyone on your team; to improve engineering productivity and participation in testing.
Subscription plans
Private Tenant
Features from Self Support
Sustainable development
1x SaaS hosting & SSL under *.tenant.kiwitcms.org
Unlimited users
Control of authorized users
No User/Group admin
Extra GitHub integration
Always the latest version
10-16 UTC/Mon-Fri support
Email response within 72 hrs
Subscribe for 50 $/mo
Enterprise Subscription
Features from Private Tenant
Built on top of Red Hat UBI
Tagged releases from kiwitcms/enterprise
aarch64 and x86_64 builds
Unlimited tenants
Full Admin panel access
Auto error reporting via Sentry
Versioned static files for CDN
SMTP and Amazon SES email
08-20 UTC/Mon-Fri support
Email response within 24 hrs
Subscribe for 400 $/mo
Managed Hosting
Features from Enterprise Subscription
Hosted by Kiwi TCMS in AWS
DNS/SSL can be provided
Can override default settings
Will upgrade upon request
Regular encrypted backups
Fully isolated instance
07-22 UTC/Mon-Sun support
Video response option
Additional services - 100 $/hr!
Subscribe for 1500 $/mo
The "free as in beer" version of Kiwi TCMS is available via docker pull kiwitcms/kiwi. This repository does not provide version tags! Only x86_64 builds are available!
Additional information about Kiwi TCMS subscriptions
With an active subscription there are no license or upgrade fees, per-incident support fees, or user access fees. It's a flat rate!
A subscription provides access to software versions and certain level of guarantees behind the components which constitute Kiwi TCMS
An active subscription ensures a sustainable future for all open source software maintained by the Kiwi TCMS team
Subscriptions cover Kiwi TCMS, Kiwi TCMS Enterprise and all add-ons published under https://github.com/kiwitcms/
Subscriptions include limited coverage for third-party open source components to ensure Kiwi TCMS is not affected by issues on their side
You will be charged automatically each month. You may cancel at any time if you are not happy with the service provided
Cancelled subscriptions remain active until the period they have been paid for - usually 1 month after the last billing transaction
After a subscription has been cancelled you can still continue using Kiwi TCMS according to its open source licensing terms
Dedicated support is independent of hosting! You may chose a Private Tenant subscription and still decide to host Kiwi TCMS internally
We recommend that customers have an active subscription for each container running Kiwi TCMS. Check out our subscription gudelines for more info
Use add-on services for anything which isn't a support question, a bug, a feature request or related to managed hosting
If it's not a system or repository that we control then it needs additional services. Don't hesitate to talk to us!
See it in action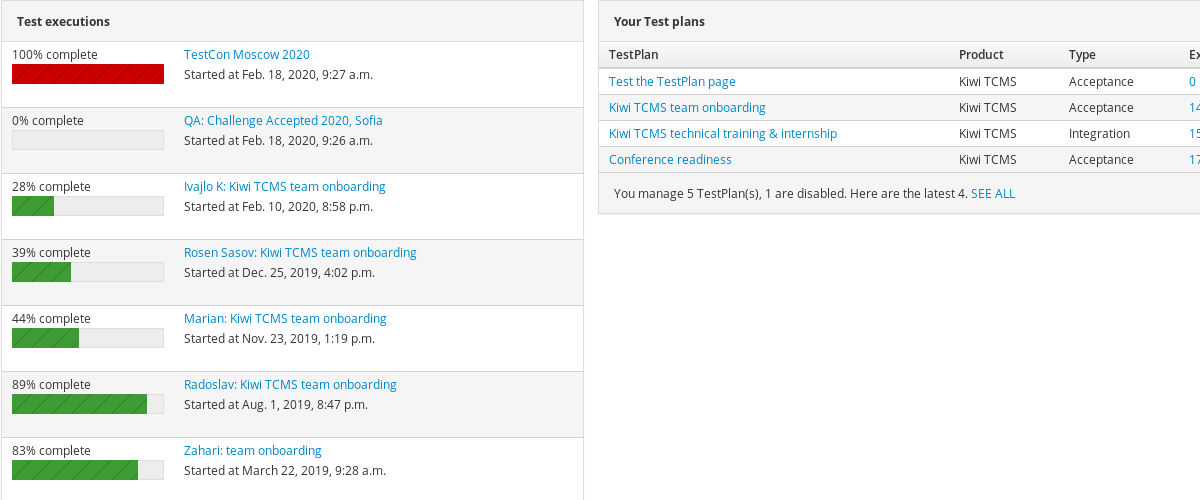 Central dashboard to start your day
See all of your test executions and test plans in one place
If you're a test and QA engineer, Kiwi TCMS is a gem open source TCMS for your team. IEEE 829 compatible, free and open source, great folks behind the project.
We're using Kiwi TCMS to organize all of our testing. It is used by our QA team to document test scenarios and provide peer review to other test engineers.
Kiwi TCMS provided us with an application which solved our pain about building, maintaining and running manual regression tests.
We created our own Kiwi TCMS image and pushed it to a private AWS Elastic Container Registry as we wanted to configure Amazon SES as the email backend.
Adoption of Kiwi TCMS has been an essential part of our process and quality improvements. It is an important component of our planned improvements.
Kiwi TCMS has proven to be invaluable for dev teams lacking resources to finance an entire tech stack. Thank you for continuing to offer & maintain this product.
Kiwi TCMS bridges the gap between security requirements and software development. It helps teams to improve the quality and security of their software.
We use Kiwi TCMS as part of POWDER, a large testbed environment, to collect test results. It fills a key function for us and we're grateful for the work of the Kiwi TCMS team.
Are you ready to transform your testing?
Start using Kiwi TCMS today.