The leading open source test management system
For manual & automated testing
Internal + external bug trackers
Plugable architecture
Versatile API layer
Made by testers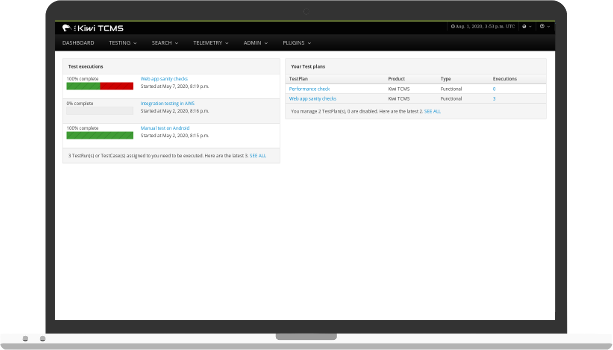 Check all videos
Manual testing
Use the dashboard to see pending work. Execute tests, mark results and report bugs.
Automated testing
Use Kiwi TCMS plugins for popular testing frameworks to collect automation results!
Test management
Create test plans and cases, track progress and assign work across multiple teams.
Testing telemetry
Instant insight into testing. Vital info for planning and status reports before release!
External API
Provides full access so you can get creative. Available via JSON-RPC and XML-RPC.
Container ready
Over 1,000,000 downloads via Docker Hub.
Paid support
Opt-in for a subscription if you don't like to self-support your Kiwi TCMS.
Check all features
Our mission is to transform the testing process by making it more organized, transparent & accountable for everyone on your team; to improve engineering productivity and participation in testing.
See it in action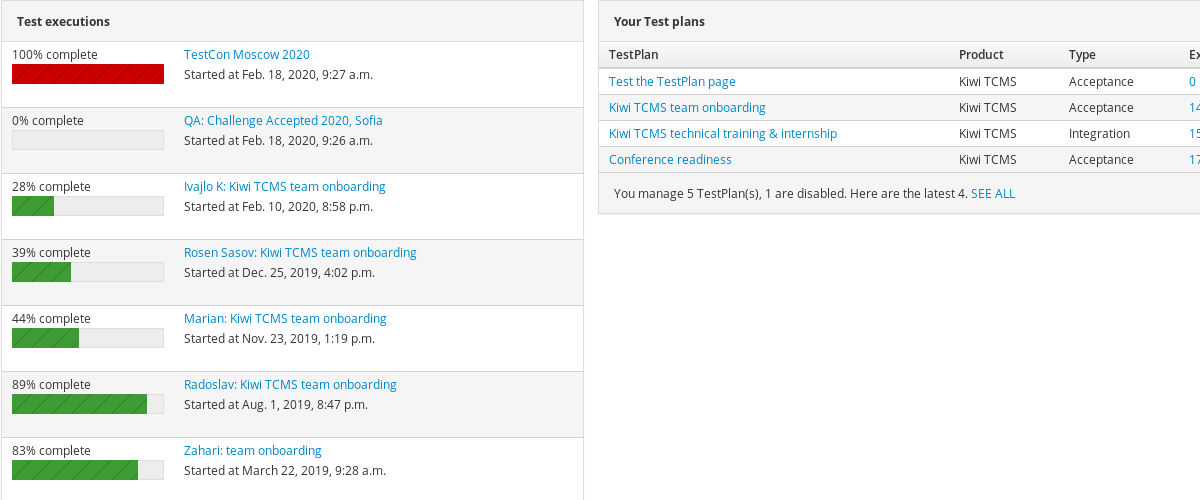 Central dashboard to start your day
See all of your test executions and test plans in one place
If you're a test and QA engineer, Kiwi TCMS is a gem open source TCMS for your team. IEEE 829 compatible, free and open source, great folks behind the project.
We're using Kiwi TCMS to organize all of our testing. It is used by our QA team to document test scenarios and provide peer review to other test engineers.
Kiwi TCMS provided us with an application which solved our pain about building, maintaining and running manual regression tests.
We created our own Kiwi TCMS image and pushed it to a private AWS Elastic Container Registry as we wanted to configure Amazon SES as the email backend.
Adoption of Kiwi TCMS has been an essential part of our process and quality improvements. It is an important component of our planned improvements.
Are you ready to transform your testing?
Start using Kiwi TCMS today.