In this new series we are going to introduce the contributors behind Kiwi TCMS. This is our community and these are their stories.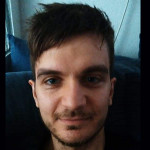 Primož Klemen
-
QA tester, full time dad, Manchester United F.C. supporter
Primož is an early adopter and our Slovenian translator. He's been actively engaging in GitHub issues, posted pull requests for improving documentation and follows us on StackOverflow as well.
What is your professional background
I've started working in IT as tech support for the 2nd largest Slovenian ISP at the time. Then I've been at leading software provider for fintech in the Balkans region in the same role and gradually transitioned into QA role. Currently, I'm working as a QA tester for Better (by Marand) and ensure, with help of my colleagues of course, proper quality of administration application for health care sector.
When did you use open source for the first time
If I recall correctly that would be some 14 years ago when I ditched dreaded Internet Explorer in favor of Mozilla Firefox browser. The whole Internet got better in a matter of seconds.
What are your contributions to Kiwi TCMS
I mainly contribute via translating the application into my native language, Slovenian. Currently there are 7 languages available for Kiwi TCMS so you are more than welcome to join and add another one. Translating via Crowdin is very simple and requires no additional technical skills. I've also dabbled into project documentation and proposed a few updates to it. I'm also the culprit for some 32 issues and counting, the majority of them being proposals for future application enhancements and few UX/UI bugs (déformation professionnelle :-)).
Why did you decide to contribute to Kiwi TCMS
The guys and gals from the Kiwi TCMS team provided us with an application which solved our pain about building, maintaining and running manual regression tests.
They did all of that for free in their spare time! So I've decided to give something back to the whole community. This was indeed my first contribution to the open source world but not the last. Since then I've also contributed to other projects which I use on a regular basis.
In hindsight, Kiwi TCMS converted me from an open source user to open source contributor!
Was there something which was hard for you during the contribution process
Contributing to the project, as a non-developer, is very easy and intuitive by either opening issues on GitHub or translating via Crowdin or even committing updated documentation to git repository through GitHub Desktop client. All of the aforementioned was new to me and I've learned in depth how to use these tools. I've also had the pleasure to familiarize myself with project documentation - Sphinx and reStructuredText are my two new best friends.
Which is the best part of contributing to Kiwi TCMS
Being able to actively improve an application that we use on a daily basis in our development process. Getting to know more people from all around the globe and see their insights about software quality assurance thus learning something new every day.
What is next for you in professional and open source plan
Professionally I'm 100% committed to Better (by Marand) and helping us achieve the best standard of quality for health care applications which also incorporates using the knowledge gathered by following and/or contributing to open source. I'm going to continue contributing to Kiwi TCMS and Captura and if time allows maybe involve myself with some other interesting projects.
Thank you, Primož! Happy testing!